Daily lunch.
Monday to Friday from 11.30 – 14.00
105 kr. incl. salad buffet, water and coffee.
On Fridays we have an extra delicious Friday dessert!
15 march
18 april
17 may
WElCOME!
For infprmation and reservation: INFO@BRIQHOTELL.SE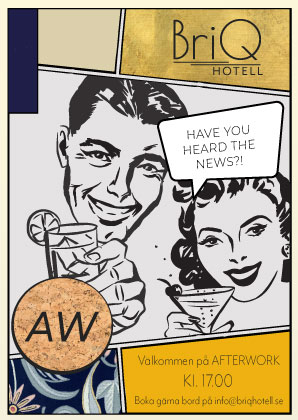 Follow us on Instagram #briqhotellhova
MUSIKQUIZ
1 march, 5 april, 3 may
Buffet 17.00-19.00
Quiz starts kl. 19.00. Quiz with food 150:-
Max 4 pers. per team
Restaurant
LUNCH, AFTERWORK, PARTY, WEDDING.
FEEL FREE TO CONTACT US FOR POSSIBILITIES
HERE YOU WILL SLEEP WELL.
RETRO INSPIRED HOTELROOM WITH COMFORTABLE BEDS.
CONTACT US
Questions, table reservations, rooms?
Ring, write or use the contactform. We are more than pleased to help you.
E-mail: info@briqhotell.se